---
Luxemburg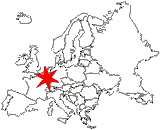 ---

Small country located between France, Belgium, the Netherlands and Germany is famous for its superb landscapes, its banks, its multilingualism, its europeanism, and its abscence of unemployement and insecurity. And people are nice too!

Luxembourg also has movie theaters, and there were some major changes in the last two years. The Utopia's team (no relations with the French cinemas) operates the only movie the theater left in town. The Utopia is a five-screen cinema close to the center. A nice surprise, the two largest auditoriums are equipped with THX sound. Large maps on the wall let us know everything about the auditoriums, except for the exact screens sizes.
| | |
| --- | --- |
| | The Utopia; its trash can is a photographer's nightmare... |
| Very depressing, the abandoned Ciné Cité. | |
The two other complexes of the city, the Marivaux, near the train station, and the five-screen Ciné Cité (not related to UGC), with its front as joyful as a prison, closed down in 1996, as the Utopolis opened December of 1996. The name reminds of both Utopia and Kinepolis, and this is not a coincidence. Utopia owns most parts fo the multiplex, and Kinepolis's Belgians own an almost symbolic 7 %.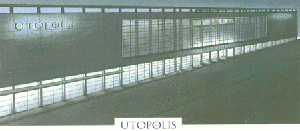 Utopolis as seen by the architects
Utopolis, a reasonably sized multiplex
The architecture of the building reminds of a ship. A 180-meter (600 ft!) corridor goes though it, and takes you from the three restaurant to the box office, to the Sega Center and to a large bookstore also selling cd's, videos and even NTSC laserdiscs and region 1 DVD's at decent prices.
Two views from the beautiful ship
The auditoriums themselves are remarkable. Auditoriums sizes range from 120 to 500 seats (2,700 total). The seats are "Kinepolis-type", large with a single armrest on both sides. Stadium seating and giant panoramic wall-to-wall screens (12 to 20 meters wide, 40 to 65 ft). THX is featured, and digital sound, but it is not possible to know wether the movie is played in SRD or DTS, and don't ask the staff, because they are very nice, but don't know the answer; and the schedule only shows "digital sound". The sound is also pretty loud, and surrounds the viewers the best way possible.
And even though the complex is some fifteen minutes away from the center, a bus line allows pedestrians to enjoy the place.
I just found the blue covering the auditoriums was a little dull; that is the only thing I did not love about the place!
How about a trip there?
Viewing conditions are superb. And many European countries are close. Maybe Luxembourg is a little far away from your place to go there as a moviegoer, but a visit would be nice; then, don't forget Utopolis! If you live nearby, don't miss this place!
| | |
| --- | --- |
| | No movie theaters here, but I really like countrysides like this. |